Company History
Company History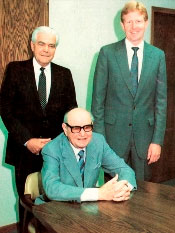 Dennis Supply Company was founded in 1935 in Sioux City, Iowa by Carter and Ebba Dennis.  Mr. Dennis had originally been in the refrigeration service business and saw the need for local parts inventory.
Carter R. Dennis joined the business with his father and Jim Stewart in 1974.
Dennis Supply Company is a family owned corporation with only three presidents in its long history, Carter W. Dennis, James B. Stewart, and the current president Carter R. Dennis. They were pictured together on the cover of Distributor magazine after Dennis Supply was selected the 1988 Distinguished Distributor.
With over 80 years of history, the Dennis Supply Company territory has grown to cover western Iowa, South Dakota, Nebraska, Wyoming and southwest Minnesota.  In 2005 central Iowa based Wayne Dennis Supply locations again became part of the Dennis Supply corporate family, building the company to the current 13 branch locations.
The original emphasis of both companies began with refrigeration, but through the years product offerings have expanded to include industry leading brands of HVAC and hydronic equipment, motors and controls.
Dennis Supply Company has built a reputation in the industry for high standards of outstanding service, including exceptional inventories and veteran-knowledgeable personnel.
By joining with the Key Wholesale Group Association and the Controls Group North America buyer groups our customers are ensured competitive pricing while maintaining local ownership and a personal touch.
All of this allows Dennis Supply Company to complete the mission.
Providing the highest level of service while selling quality products at a competitive price.